July 7, 2023
BY JOHN BAILEY
It has been a busy year for the Catawba County United Way (CCUW) staff, who recently wrapped up three concurrent grant cycles along with administering the local FEMA grant.
"It was a lot of work but incredibly exciting," CCUW Executive Director Mark Bumgarner said.
Along with the traditional Catawba County Youth Council and large community grants, the CCUW added the new Small Businesses Love Big allocation cycle.
The Catawba County United Way Board and its grant committees approved a total of $590,000 in allocations to be distributed between 2023 and 2024 (Youth Council $10,000; Large Grants $550,000 and Small Businesses Love Big $30,000).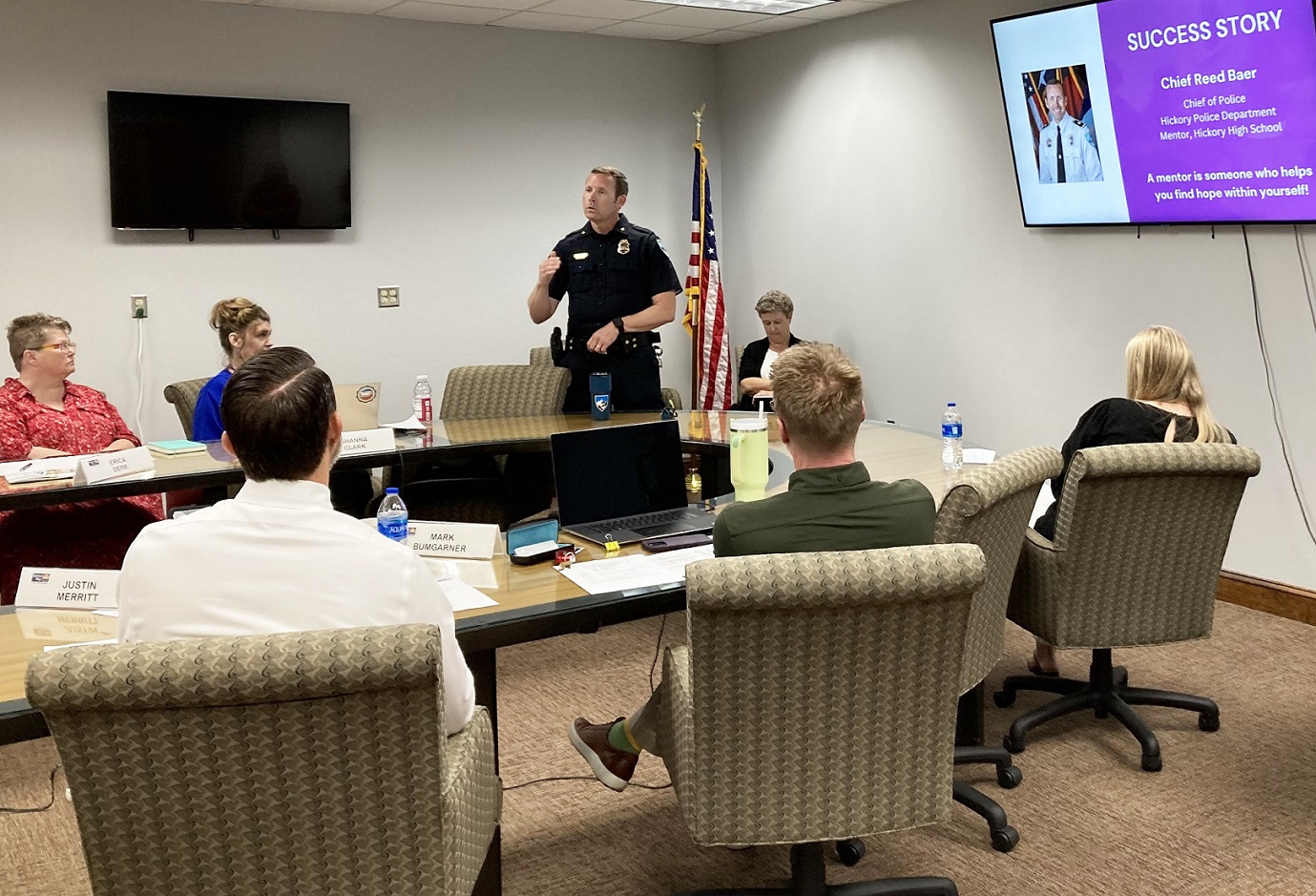 "Combined these cycles reach a broad swath of need in our community that we had not always reached in the past," Bumgarner said.
These needs include addressing income iniquity, racial iniquity, access to healthcare, homeless outreach and senior resources.
During its June meeting, the Catawba County United Way board approved $550,000 in grants to help support 17 programs from 14 local non-profit agencies starting in 2024. The CCUW will use the donor dollars pledged during this year's campaign to fund those grants.
2024 Large Grant Funded Agency/Programs
EDUCATION
The Salvation Army – Boys and Girls Club afterschool/summer programs; Council on Adolescents – Student mentoring and Healthy youth education; Partnership for Children – Parents as teachers; Patrick Beaver Learning Resources Center – Literacy tutoring; Sipe's Orchard Home – Transitional housing for teens.                                                  
INCOME
Exodus Homes – Transitional housing for recently incarcerated; Greater Hickory CCM – Crisis financial assistance, rent/mortgage; The Salvation Army – Crisis Financial Assistance for families and the Shelter of Hope; Habitat for Humanity – Home repairs.                                    
HEALTH
Adult Life Programs – Adult day care subsidies; American Red Cross – Emergency disaster services; DSS Senior Nutrition Services – Meals on wheels; Exodus Homes – Medically assisted recovery; Family Guidance Center – First Step Domestic Violence services and Sexual assault services; Children's Advocacy & Protection Center - child medical exams; The Mental Health Fund – Catawba Valley Healthcare.
Find more details at - www.ccunitedway.com/community-partners.
2023-24 Youth Council Grants
Every spring the Catawba County Youth Council participates in the United Way Youth Community Investment process.
Through this annual event, the Council votes to fund programs from non-profits or other local public agencies in Catawba County focused on improving the lives of children and youth (ages 0-18).
This year, the Youth Council voted to support six local non-profits, and the Catawba County United Way board approved the Council's recommendation of a total of $10,000 at its June meeting.
Those agencies and programs included: The Corner Table – Backpack program, Carolina Caring Foundation – Brighter Days Grief program, Catawba County Hispanic Ministry – Centro Latino Abriendo Puertas program, Catawba County Sheriff – school supply outreach, Children's Advocacy and Protection Center – Chance therapy dog and The Salvation Army Boys and Girls Club – summer day camp scholarships.
Find more details at - www.ccunitedway.com/youth-council.
Youth Council membership applications are available through the guidance departments at the local high schools or by contacting Donna Mull at 828-465-8240 or at donna_mull@ncsu.edu.
Small Businesses Love Big Grants
Also in June, the SBLB grant committee recommended and the Catawba County United Way Board approved a total of $30,000 in allocations for the first year of this initiative.
Small Businesses Love Big is an opportunity for small companies in Catawba County (50 employees or less) to invest $365 each back into their communities to support local small and/or new non-profit programs.
The first group of non-profits receiving SBLB grants include 10 local agencies: The Corner Table, Catawba County Council on Aging, Family Care Center, Hart Square Foundation Inc., Catawba County Juntos 4-H, Neigbors Network Inc., OUTright Youth, Rising Hope Farms Inc., Serving Our Seniors, Volunteer Outreach in Community Efforts.
Find more details at - www.ccunitedway.com/small-businesses-love-big.
The Catawba County United Way's mission is to build relationships to support the community with collaboration, compassion and purpose.
To learn more about the CCUW and how you can be part of this mission, visit ccunitedway.com or call 828-327-6851.