By John Bailey
From the crews in the pit area, to the volunteers in concessions, to the dozens of organizations sharing information with the public, the Catawba County United Way's Ready to Race United event was an example of collaboration in action for the more than 2,600 race fans who showed up for a free night of racing and fireworks.
Held on Aug. 21, Ready to Race United was a partnership between the CCUW and the Hickory Motor Speedway. It was an opportunity to celebrate the work the United Way and its community partners do throughout the year.
The race was also a chance to officially kick-off the CCUW's campaign season in support of dozens of local non-profits.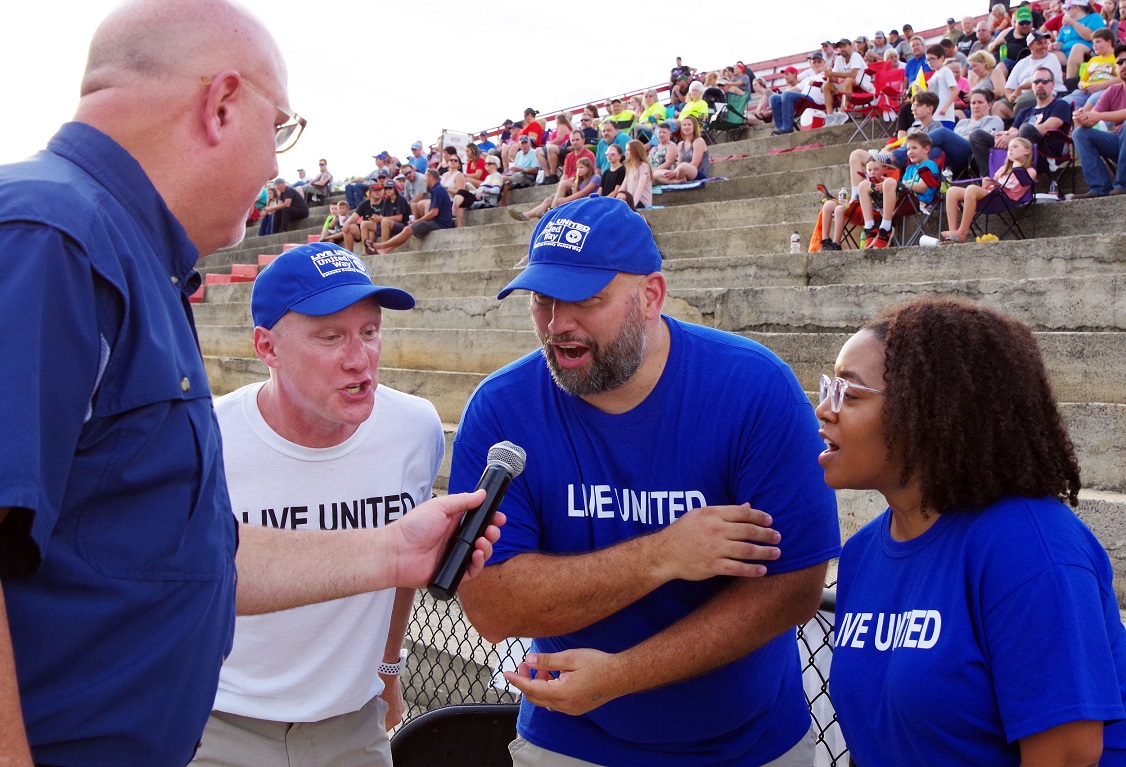 "It was a tremendous privilege to be able to partner with the Hickory Motor Speedway to have our United Way kickoff," CCUW Campaign Chair and Senior Vice President Foothills Market President Johann Louchez said. "We are very happy that our community was able to learn more about the United Way and our partner agencies and look forward to having an excellent campaign this year so that we can keep making a difference in our community."
Several local non-profits set up prior to the race to help share information about their programs with the public.
"Community partnerships are important to The Corner Table because our mission would not be possible without them. It's that simple," The Corner Table Soup Kitchen Executive Director Summer Jenkins said. "It takes partnerships from churches, businesses, organizations, individuals to provide our programs to the community. The Corner Table is a grassroots organization and community partnerships are essential in the daily work we do."
Last year, more than 230,000 requests for help were made through NC 211, the United Way of North Carolina's health and human services information help line.
The free night of racing and fireworks was courtesy of the event's corporate sponsors: Rock House Farm Family of Brands, Paramount Automotive, Truist, Pepsi, Shurtape Technologies, Vanguard Furniture, Shuford Yarns, Corning Cable Systems, Klingspor, Asignco and Cargo Transporters. Many also set up recruiting booths.
The CCUW had plenty of support during the event with 15 volunteers along with several Catawba County United Way Board members helping in concessions, with parking and with other track related duties. A COVID-19 vaccination tent from StarMed Healthcare was set up as well for those interested in getting their shot.
"I'm grateful that so many in our community were able to see firsthand the wonderful work of our funded partner agencies and the many resources the United Way is able to support," CCUW Board President and RHF/Century Furniture Vice President, HR & Benefits, Amy Guyer said. "Thanks to our event sponsors, the Hickory Motor Speedway, and the United Way staff for making this event possible." 
To learn more about the Catawba County United Way's mission, visit ccunitedway.com or call 828-327-6851.
Watch Review Video - THIS LINK.
See more Photos from event - THIS LINK.