Aug. 31, 2023
BY JOHN BAILEY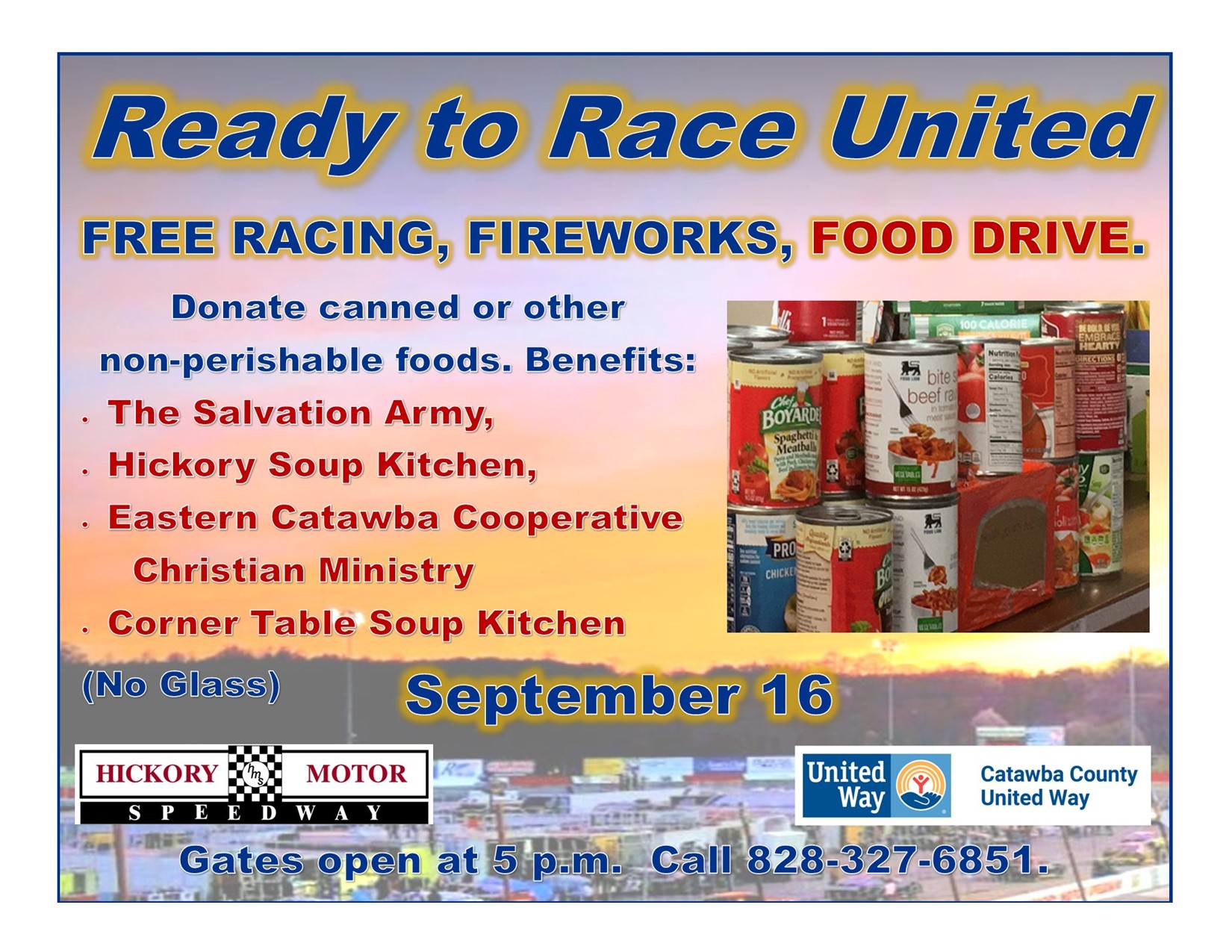 On Sept. 16, the Catawba County United Way kicks off its annual campaign with a free night of racing and fireworks in partnership with the Hickory Motor Speedway.  
Gates open at 5 p.m. with races starting at 7 p.m. 
The event also introduces the public to local non-profits and public organizations during a Resource Fair prior to the start of racing. It will be a great opportunity for the agencies to share their services with the public.
This year's non-profits attending includes: Exodus Homes, Catawba Co. Public Health, Catawba Valley Healthcare, Greater Hickory Cooperative Christian Ministry, Partnership for Children, In My Fathers House, Catawba Alliance for Recovery, Council on Adolescence, The Salvation Army, The Corner Table Soup Kitchen, Carolina Caring, American Red Cross, Safe Kids, Community Care NC, Habitat for Humanity and Pace at Home.
The United Way is also holding a Food Drive at the event, benefiting: The Salvation Army, Eastern Catawba Cooperative Christian Ministry, The Corner Table Soup Kitchen in Newton and the Hickory Soup Kitchen.
Donate canned or other non-perishable food (no glass items) prior to the start of racing at the gate and help local families.
"Community led food drives are important because they bring awareness of the need," Kristal Manning, ECCCM executive director said.
Comparing the first eight months of 2022 to 2023, the agency has seen a 118 percent increase in the number of households receiving food assistance through their program. So far this year they have served 2,359 households.
"Community support is critical, and we could not continue doing what we do without the support of our donors, volunteers, and partner agencies," Manning said.
This year's sponsors of the race include Shuford Yarns, Shurtape Technologies, Vanguard Furniture, Pepsi Cola Bottling Co., Corning Incorporated Foundation, Cargo Transporters, Healthy Blue NC, Century Furniture LLC, NextEra Energy Constructors LLC, Truist Bank, Paramount Automotive Group and Publix.
For more information call 828-327-6851 or visit www.ccunitedway.com/ready-race-united.