Aug. 15, 2023
School is just weeks away and the Catawba County United Way is wrapping up this year's County School Supply Drive. 
With 30 collection partners, the CCUW has an initial collection count of nearly 6,000 individual classroom and hygiene supplies to share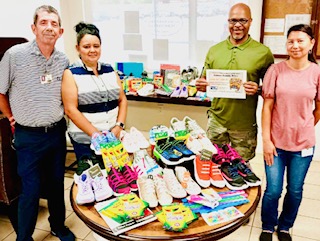 among Catawba County, Hickory Public and Newton-Conover City Schools.
And there are still more donations to come in by the end of August.
Teachers at all three districts have mentioned in the past how valuable it is to have these stockpiles of classroom supplies at their school to help families throughout the year.
Thank You…Thank You to everyone who has helped with the United Way School Supply drive this year.
Our partners included: Adult Life Programs, West Rock, Peoples Bank, St. Aloysius Catholic Church, Eastern Catawba Cooperative Christian Ministry, Authentic Church, Hickory Community Yoga and Wellness, Catawba Co. Department of Social Services, Truist Bank, North Newton Baptist Church, Catawba Valley Healthcare, Rotary Club of Newton Conover, First Presbyterian Church Hickory, Lifetime Eyecare, Shurtape Technologies, Patrick, Harper & Dixon Law, Century Furniture, ZF Chassis Components, Partnership for Children, Corning – Newton Cable Plant, Pepsi Bottling Group, Pace at Home, University Christian High School, Hanes, Haworth, Hickory Chair, Catawba Co. Library System, Carolina Containers, Special Metals – Newton.
We also thank the Project C homeschool group and the Catawba County Youth Council for helping with the initial sorting and counting of the donations.
See more PHOTOS at THIS LINK. 
To learn more or to help, call 828-327-6851.